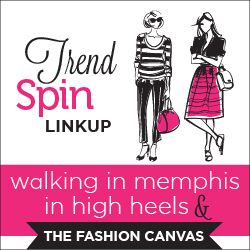 So excited to be participating in the Trend Spin LinkUP! I have just the outfit post for the mint trend this week:
So I realize I have done this outfit post before, however when the new Trend Spin Linkup via (Laura from
Walking in Memphis in High Heels
) and (Erin from
The Fashion Canvas
) announced that the first trend for the first week was mint, well how could I not use this outfit? It was like this shirt was waiting in the wings for it's moment to shine!
Thanks Ladies for this great link up idea!!!
If you would like to see the break down of this outfit visit my former post
Addicted to Mint
.